Trumpeter, Honored artist of Ukraine,
Laureate of International Trumpet Competitions, YAMAHA Artist,
Soloist of the National House of Organ and Chamber Music,
Soloist and a leader of brass section of the orchestra PHILHARMONIE DER NATIONEN (Germany),
Artistic director of KIEV-BRASS quintet
"Sensitive virtuosity and ability to create a bright, concentrated image – these are the distinctive features of Ukrainian trumpeter Andriy Ilkiv. He is able to extract from his instrument a sound as sweet as figs, and pungent, like quince, be gentle and full of melancholy or mocking and violent – all depends on the score."
COMMERSANT
"The trumpet solo of the Ukrainian musician Andriy Ilkiv caused the audience to feel their "goose skin". His instrument sounded as soft mute and touching as the oboe."
MYUNSTERSCHE ZEITUNG
Andriy Ilkiv comes from Western Ukraine, Ternopil` region. It has unique landscapes and famous folk traditions. His parents are musicians. That is why music lives inside him from the very first moments of being. Andriy has played the guitar, piano, trumpet, and drums since his childhood and also he has sung a lot – it's very common for his native land.
Andriy learned playing the trumpet in the musical colleges in Rivne and in Khmelnitsky and graduated from Tchaikovsky National Musical academy in Kiev. He studied with Andriy Kibita in Rivne, with Roman Androsiuk in Khmelnitsky and with Alexander Chupryna in Kiev.
He awarded a number of national and international prizes in trumpet contests and festivals.
Andriy Ilkiv was a member of the first Ukrainian professional brass-quintet "Ukrainian brass" which became one of favorites of World Contest of brass quintets in Narbonn, France, 1993 and awarded honored nomination of Toulouse society of lovers of music "THE FIRST TALENT OF THE WORLD", 1995.
After "Ukrainian brass" had transformed into "KIEV-BRASS" Andriy Ilkiv took place as the first trumpeter and now KIEV-BRASS is one of the most fascinating ensembles in Ukraine.
Andriy has been a soloist of the National House of Organ and Chamber Music for over 15 years. There he plays concerts with organ, chamber, symphonic, the wind, folk instruments orchestras, singers, piano, KIEV-BRASS and other kind of ensembles.
Andriy Ilkiv has been invited as a first trumpet to the National opera Theatre of Ukraine and to other ensembles, orchestras and recording projects.
Since 2002 Anderiy Ilkiv has been a soloist and a leader of brass section of world known orchestra PHILHARMONIE OF NATIONS (cond. prof. Justus FRANZ). Andriy played concerts of Teleman, Handel, Bach (the 2nd Brandenburg concert), Haydn, and Shostakovich with PN in many great concert halls of Europe.
His trumpet sounded in Queen Elisabeth hall in London, Berlin Concert House, Munich philharmonia, Alta opera in Frankfurt, Concert Gebouw, Belgrade philharmonia, and many other stages of Poland, Great Britain, Germany, Serbia, Croatia, France, Spain, China, Byelorussia etc.
Andriy Ilkiv is a YAMAHA artist in Ukraine and provides a lot of projects under support of JAZZ-CLUB which is an official representative of the YAMAHA Company in Ukraine.
In addition to playing trumpet Andriy Ilkiv conducts workshops across Ukraine and abroad. For over 10 years he has taught trumpet and given ensemble lessons in the Tchaikovsky National Musical Academy of Ukraine.
Andriy Ilkiv has made a lot of records for the musical fund of the National Radio Company of UKRAINE.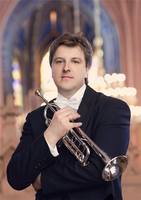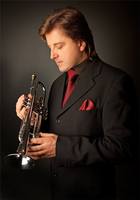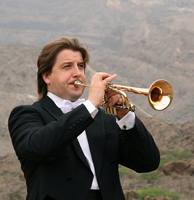 Русский
English
Gershwin. Summer time
Marcello. Concerto in C Minor
Lara. Granada
Schubert. Ave Maria LIVE
Web Links
Andriy Ilkiv'sPerformances