Slovenia
Laureate of International Violin Competitions
"… If only one example could show the stellar stat of last weekend's Winterfest concert, it would be this: Virtuosic violinist Nadezda Tokareva soloist in Saturday's superb Moscow State Radio Symphony Orchestra Concert… Tokareva was a standout in her taxing solo, her expressive violin shifting effortlessly from the muscular to the ineffably ender…"
"The Daytona Beach News-Journal", by Laura Stewart
"Maestro Kornienko got wondrous help from his violin concerto soloist, Nadezda Tokareva, whose goddess-like technical competence matched her statuesque presence in a dazzling, iridescent green, pleated, full-length gown. She tossed off the stops and trills, the soaring melodies as if they were mere trifles; in the lower registers she achieved a polish and suavity that summoned up memories of David Oistrakh; her command of the first movement's cadenza clamped the audience in a jaw-dropped stone silence, marveling at the brilliance of her technique…They stood shouting "Bravo!" at the end."
"Telegram & Gazette Reviewer", by John Zeugner
Russian-Slovenian violinist Nadezda Tokareva is one of the most talented and brilliant violinists of her generation. Nadezda studied with the outstanding professor of the Moscow State Conservatory People's Artist of the USSR Edward Grach. She is considered as one of his best students who quickly attracted great attention of the musical world.
Nadezda became a laureate of a number of International violin competitions during her academic career:
• Grand Prix at I International competition "The Violin of the North" (Yakutsk, 1997)
• First prize at II International Yampolsky Competition (Penza, 1999)
• Special prize at XII International Tchaikovsky Competition (Moscow, 2002)
• Special prize at the International Competition M. Long – J. Thibaud (Paris, 2002)
• Second prize at the I Paganini competition (Moscow, 2003)
• Winner of international festival «April spring» (North Korea, 2006).
Nadezda has also participated in a number of prestigious international master classes and music festivals, including: international master courses Мonti Azzurri Аcademy (Italy,1998) and Keshet Eilon (Israel, 1999) and international musical festivals in Оhrid, Macedonia; "Guadix Classica", Spain; international musical festivals in Tours, Nice, and Eu, France; "Stars of Planet", Yalta, Ukraine; "Kharkov`s Assambleas", Ukraine; "Daytona Winterfest", the USA; IV Gabala International Music Festival, Azerbaijan.
Since 1997 beginning as a student, Nadezda became a member of and worked in the Moscow Philharmonic Society as the artist of the chamber orchestra "Moscovia". From 1999 she started to work there as the soloist-violinist.
Nadezda Tokareva has performed in the principal Moscow concert halls, including the Great and Small Halls of the Moscow Conservatory, the Tchaikovsky Hall, and the Svetlanov and Chamber Halls of the International House of Music. Her concert schedule includes venues in more than 30 countries including Russia, the United States, countries of Western and Eastern Europe, Israel, Turkey, China and Japan.
Throughout her professional career, she has performed with numerous famous Russian and foreign symphonic and chamber orchestras and has toured twice as soloist and concertmaster with the Moscow State Radio Symphony orchestra in the United States in 2004 and 2010.
The diversity and richness of her repertoire capture her audiences. She has the ability to adapt her style to accommodate the demands of a broad range of musical repertoire from baroque to contemporary composers. Nadezda Tokareva is the author of a number of violin transcriptions and arrangements.
Over the past several concert seasons Nadezda has participated in a number of interesting concert programs including tango, jazz and folk. Nadezda Tokareva is the first violinist in Russia to perform publicly the "Russian Concerto" by Edward Lalo and the world premier in France of the 2nd Sonata for Violin and Piano by Valery Arzoumanov (dedicated to Nadezda Tokareva) and several other works.
A good deal of her concert activity revolves around the Russian State Concert Company "Commonwealth", with which Nadezda Tokareva has collaborated closely for more then 10 years. During Russia's Culture Days, she has presented and still presents on the art of the Russian violin and constantly receives high consideration from music critics as well as the enthusiastic delight of her concert audiences.
Nadezda Tokareva's performance style is characterized by bright individuality, formidable technical skills, interpretive power and magnificent sound, the ability to fully expose the composer's spirit and to most clearly present the essence of the composition to the public.
Her pedagogical life is also very active: since 2002 to 2013 Nadezda Tokareva was an associate professor of the Tchaikovsky Moscow State conservatory. In August 2004 she was invited to teach in XII Summer school "New Names" UNESCO (Suzdal, Russia).
In December 2006 – teacher of Mobile Academy of Arts (international project of the Russian Fund of culture, Russia, Yekaterinburg.)
2006 – 2009 – professor of Kurashiki Sakyo University, Japan.
2011 – 2013 an associate professor of the Maimonides State Classical Academy, Moscow.
Some students of her class became laureates of the international competitions.
Nadezda Tokareva has also served on several international competition juries.
Nadezda Tokareva plays a wonderful Nicolo Gagliano violin ca 1765.
Since 2011 Nadezda Tokareva has lived and worked in Slovenia. The Republic of Slovenia recognized Nadezda's artistic merits by granting her Slovenian citizenship under the accelerated procedure.
Nadezda is successfully continuing her concert and teaching activities. She performs in the best halls of Slovenia, makes a lot of recordings on the State Radio of Slovenia and gives master classes. Nadezda is the author of many violin premiers and the first performer of Slovenian authors' works.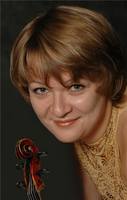 Русский
English
Tchaikovsky. Violin Concerto
Ernst. Fantasy on themes from opera by G.Rossini "Otello", Op. 11

Waxman. Carmen Fantasy

Sarasate. Zigeunerweisen, Op. 22

Stravinsky. Scherzo

Saint-Saens. Havanaise

Web Links
Nadezda Tokareva's Performances